Hi, my name is Dima
Me and my team create simple, original,
and impressive websites, taking into current
trends in

UI Design

and

SEO

optimization
When developing our projects, we rely on deep SEO analysis and UIUX Design research, as well as modern Web Development standards
Principles

of my works and projects

I'm Dima Braim, an Art Director, UIUX Designer, Front-End Developer, and in the past DevOps engineer with more than 10 years of experience. I am a Belarus guy who is now based abroad and travels around the world. I love minimalism and implement it in all aspects, from design and code to everyday life.

I have a small international team of very talented, honest and open people. Together we create things that live on the internet.

Have a question? Feel free to ask.
UIUX is the sum of all things
Here, style does not triumph over the content. I combine form and function to produce something that looks great and works fantastically.
SEO Analytics and UX Research
For a modern business, it is not enough to have a beautiful website. Gotta be the best! In our work, we realy on best practices of UX Design and in-depth SEO analysis.
Modern technologies
Constant development and study of the latest trends in web development and UI design. Your project will not become obsolete after 5 years.
Perfection doesn't do a time zone
I'm not tied to a desktop or any particular time zone. Where I have to be and who I have to work with are determined by the project. I can always adjust to the time that suits you.
Clean and Minimalism
Simple, understated, and efficient. This is both my method and motto. Simple interfaces, clear code, and skilled execution—this is designed as it should be.
Joint involvement in the project
I take a pragmatic approach where we combine your knowledge of your client, product, and industry with my design and web development experience.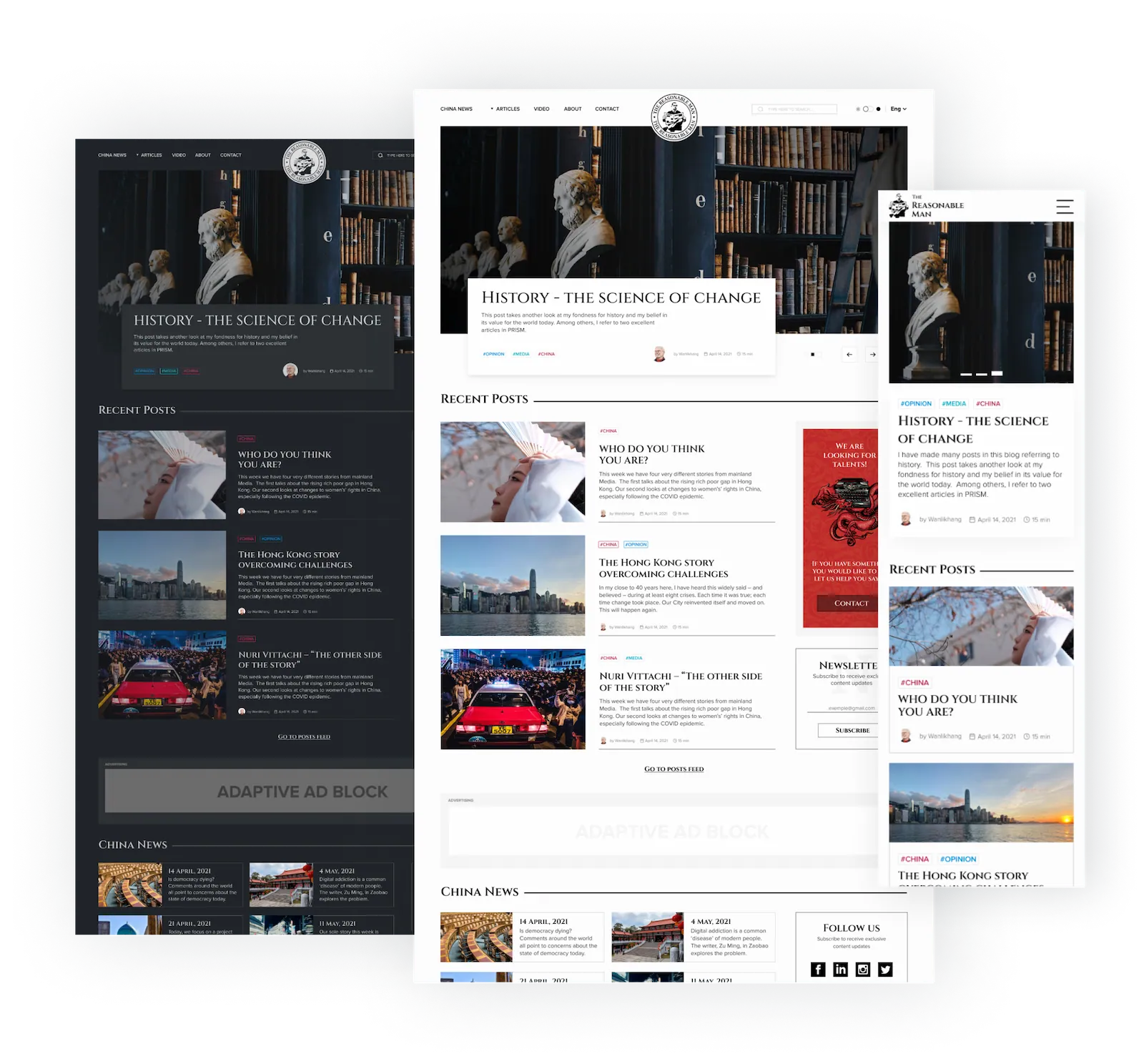 Brian Ranwiсk is one of my regular clients and customers. In this project, Brian works as a gonzo journalist and provides a balanced view of the political, historical and cultural aspects of mainland China, Hong Kong and relations with the United States. I am constantly working on this project in collaboration with my friends and partners from SamataDesign. We are always thinking about how to improve the site itself, increase audience reach and make this resource more accessible to a wide range of readers.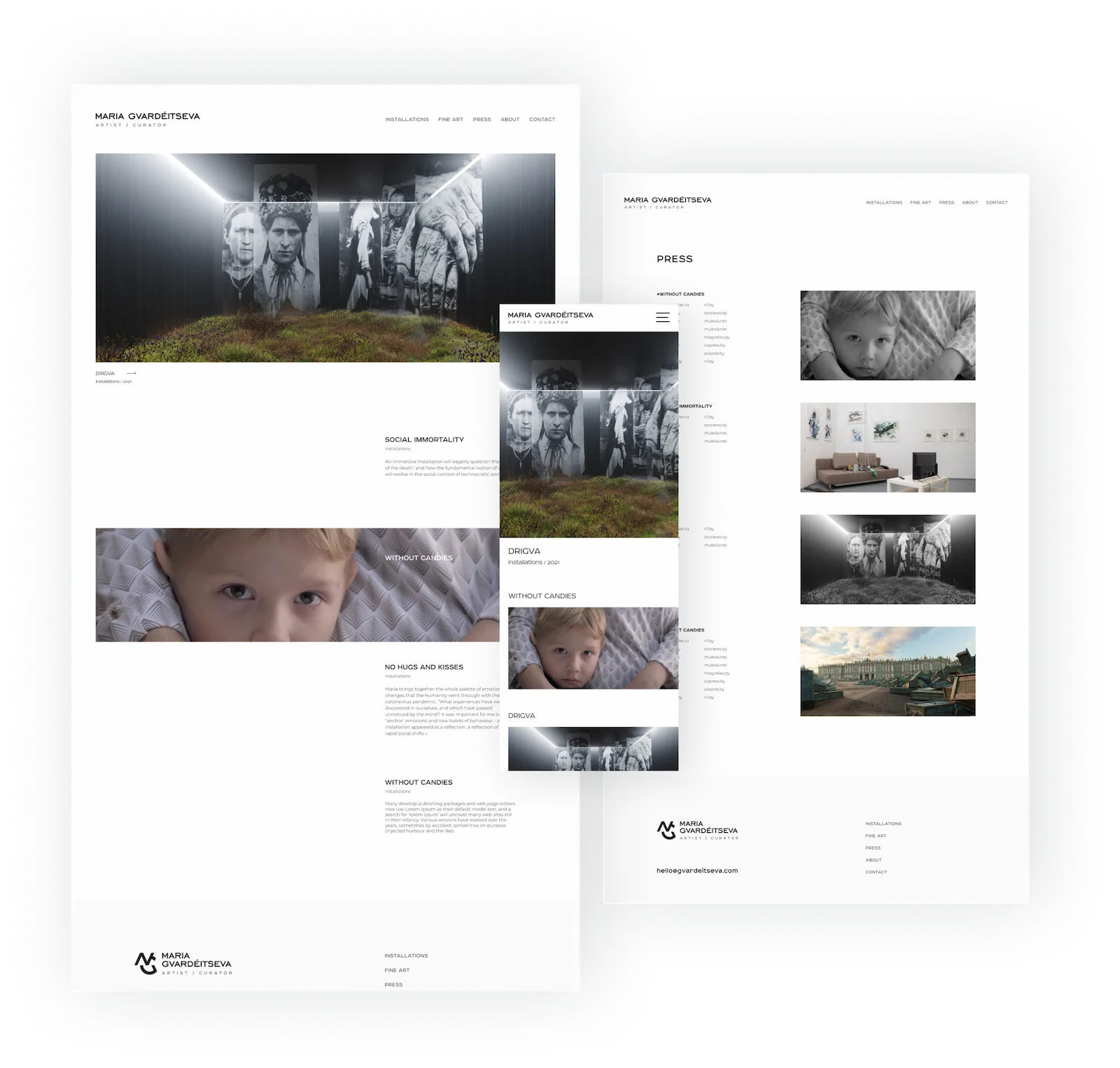 Maria Gvardeitseva is an artist and creator working in such genres as installation, art, and graphics. In her works, Maria raises the themes of Belarusian identity, the problems of orphans, and the realities of modernity and events. After the completion of the site development, our cooperation in various areas, from the design of social networks and posters of upcoming events to motion graphics and consultations. The project is designed in one of my favorite styles - minimalism.
How is the
project development

going?

The sequence of site development and a clear study of all stages is the key to the success of the entire project.

Contact
1.

Hello

Let's get acquainted and discuss your project, idea, and product. At this stage, we will collect all the vision and desire for the future product. Define your goals and target audience. Prepare a checklist for further in-depth analysis. This step is free. Feel free to ask me your questions ;)
2.

SEO Analytics / UX Research

The UX Designer and SEO Specialist of our team will conduct an in-depth study of the niche and competitors for your project. We will determine the strengths and weaknesses of your sales proposal, and make comments to improve the product. We will select the optimal strategy for promotion and market entry.
3.

User Flow / Wareframe

For a more complete, in-depth and mutual understanding of the future project, we will make a schematic view of the site (warframe), and determine the necessary blocks, functionality, and modules of the site. Let's think of a more convenient and optimal way for the user to perform a specific target action (user flow).
4.

UI Design / Prototype

We will develop a unique, modern adaptive interface design layout based on UX Research analysis and SEO audit. For complex functionality, we strongly recommend making a prototype and conducting A-B testing of the product on the control group.
5.

Front-End / Back-End Development

At this stage, a fully approved design layout is sent for development. In our work, we use the most modern and proven web development standards. Approval of the finished front end only after the successful completion of Google and W3C tests. Landing the finished version is carried out on the most modern content management systems (WordPress, October CMS, Headline). We can also either provide you with a ready-made front end or use a specific content management system that you have requested.
6.

Tests / Deploy

But at the final stage, we conduct a full test of the finished product on various devices and fix all the errors and shortcomings that have arisen. We configure your server for further safe use of the site. We carry out work on backup systems, installing security certificates (SSL), and connecting Google Analytics. We also provide guarantees for our work for an unlimited period.
Additional Services
Also, my team and I provide services in the development and maintenance of the project on a one-time or ongoing basis.
Creation of Promotional Videos / Motion Design
Development of advertising videos and motion design for various social networks (Facebook, Instagram, TikTok, Youtube). Writing scripts, dubbing videos in different languages, preparing titles, and video editing. Animation of logos and development of special graphics.
Google Direct
Setting up and conducting marketing advertising campaigns in Google Adsense, Facebook, Instagram, and other search systems and social networks
SEO
Carrying out internal and external work on search engine optimization of your site. Increase conversions and backlinks. Preparation of advertising articles for publication on third-party resources.
SMM
Development and management of advertising campaigns in social networks. Analysis of competitors and target audience. Designing profiles, preparing advertising creatives, writing offers, and advertising texts. Content planning and reporting.